The ultimate list of hash-tagged spots in Dublin
24 January 2019 ·
4
min read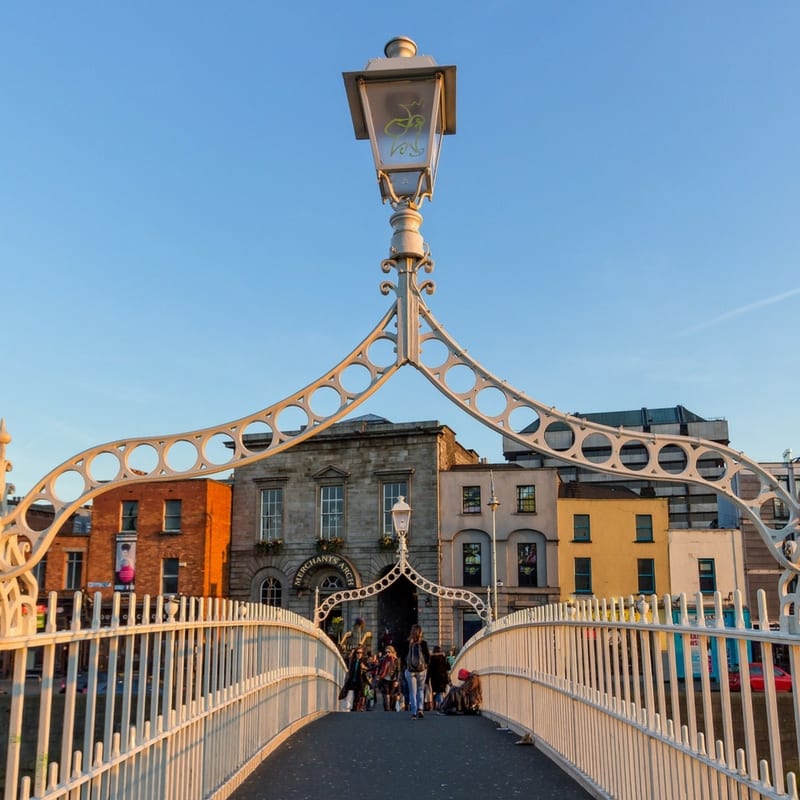 We know there are lots of Insta-worthy places in Dublin but have you ever wondered what's at the top on the 'gram? Us too! At The Alex hotel, we delved into the numbers to bring you the ultimate list of Most Instagrammed Places In Dublin.
Starting with Dublin's 12 most hashtagged places, followed by a runners up list—because let's face it, there are too many beautiful places in our fair city to narrow it down to just 12!
#1 Temple Bar
430,564 posts
At number one, you may have guessed it, Temple Bar in the heart of Dublin city centre. Although you may not have guessed that Temple Bar tipped the scales so significantly that it dwarfs the other places on the list with more than double the number of posts than our second most Instagrammed place.
#2 Phoenix Park
169,238 posts
Our furry friends over at Phoenix Park have brought it in as the second favourite spot among sightseers and Instagrammers. Those adorable deer certainly aren't camera shy.
#3 Croke Park
129,340 posts
In third place is the beloved home ground of Irish sporting tradition since 1891. Ireland may attract over ten million tourists every year, but it wouldn't be surprising if the majority of social media posts come from our very own nation of die-hard GAA supporters.
#4 Malahide Castle
94,311 posts
Surprising that Malahide Castle comes up trumps over the world-famous Ha'Penny Bridge? A blissful scenic backdrop for couples and a wholesome day out for families, this historical rural refuge is a clear favourite for locals and tourists alike.
#5 Dublin Zoo
89,964 posts
Since its doors opened in 1831, Dublin Zoo has made its mark on history, attracting visitors to our city for over 100 years. In fact, in 2015 Dublin Zoo was the third most popular tourist attraction in Ireland, with over 1 million visitors.
#6 Trinity College and The Book of Kells
77,166 posts
Dating back to the 18th Century, Trinity College has been a landmark for Irish academia. Home to the Boru Harp, a copy of the 1916 Proclamation of the Irish Republic and The Book of Kells, the incredible library holds some of Ireland's most precious historical texts.
#7 St. Stephen's Green
69,481 posts
A quiet retreat from the hustle and bustle of Grafton Street, St. Stephen's Green is the seventh most popular spot—from catching snaps of the autumn leaves to chilling on a summer's day, one could say it's our very own equivalent to Central Park?
#8 Guinness Storehouse and St James' Gate
65,118 posts
Built in 1902, the Guinness Storehouse, home of the black stuff, opened its doors to the public as a tourist experience in 2000. A history of beer making followed by a free pint of Guinness while overlooking Dublin's fair city—it's a win-win!
#9 Dublin Castle
62,062 posts
Fulfilling multiple roles throughout history, the walls of Dublin Castle would have many a secret to tell. Located in the city centre, this is one of Dublin's most significant landmarks, steeped in Irish history—it's certainly not to be missed on a city day trip.
#10 Grafton Street
60,115 posts
More than just the city's main shopping district, Grafton Street has been the heart of Dublin's social scene for over a century. By day, the pretty winding streets are thronged with busy shoppers and ladies who lunch. By night, the bars are alive and kicking until the early hours.
#11 Aviva Stadium
31,353 posts
Opened only in 2010, the Aviva Stadium is Ireland's first and only UEFA Category 4 Stadium. Primarily known as the home of Irish Rugby, it may surprise some that the Aviva is just shy of one of the top ten most Instagrammed spots in the city.
#12 Marlay Park
31,142 posts
One of the city's main music venues with a capacity of 40,000, as well as the staging ground for weekend markets, craft fairs and group yoga practices—Rathfarnham's natural woodland holds the number 12 spot on our list of most hashtagged places in Dublin.
Now that we've rounded up the top 12 most Instagrammed spots, we felt it would be rude not to list the most popular runners up, for those of you who were curious enough to read this far!
The Runner's Up of Dublin's Most Instagrammed Places
There were a number of surprising entries in the runners up category. First and foremost the world-famous Ha'Penny Bridge at number 13, just missing our top 12 categories. Other contenders such as Poolbeg Lighthouse and the Dublin Mountains are based outside the city centre which may account for their lower popularity. O'Connell St. on the other hand is the main street in our city centre and placed just #16 along with its main landmark, The Spire, further down the list at number 26! You may also see that #DoorsOfDublin has made the list at number 29 ahead of the Iveagh Gardens, mostly featuring the city's beautiful Georgian doors in a variety of colours. While not an official attraction, it's clear to see that Dublin's Georgian history is popular amongst tourists and locals alike.
Other popular attractions such as Kilmainham Gaol and Bulls Island were also in the runners up category as well as our neighbouring park, Merrion Square, which is right on our doorstep at The Alex. Although it's a runner up, we think it's well worth a visit to see the statue of Oscar Wilde and the beautiful flowers that begin blooming in Spring. And why not take a shot for Instagram while you're there too!
#13 Ha'Penny Bridge (29,813)
#14 Dublin Bay (28,234)
#15 Kilmainham Gaol (25,044)
#16 O'Connell Street (22,986)
#17 Poolbeg Lighthouse (22,586)
#18 Christchurch Cathedral (22,209)
#19 Dublin Mountains (21,557)
#20Killiney Hill (18,058)
#21 Grand Canal Dock (16,105)
#22 Howth Cliff Walk (15,852)
#23 Merrion Square (15,209)
#24 Bulls Island (13,891)
#25 Samuel Beckett Bridge (13,804)
#26 The Spire (13,670)
#27 Dun Laoghaire Pier (11,801)
#28 Doors of Dublin (11,784)
#29 Dublin Port (9,864)
#30 Iveagh Gardens (9,562)
What do you think of our list? Did your favourite place in Dublin make the top spot?
Follow The Alex Hotel Dublin 2 on Instagram to keep up with our latest special offers and social events!