Spending a long weekend in Dublin – Sights to explore
08 July 2021 ·
4
min read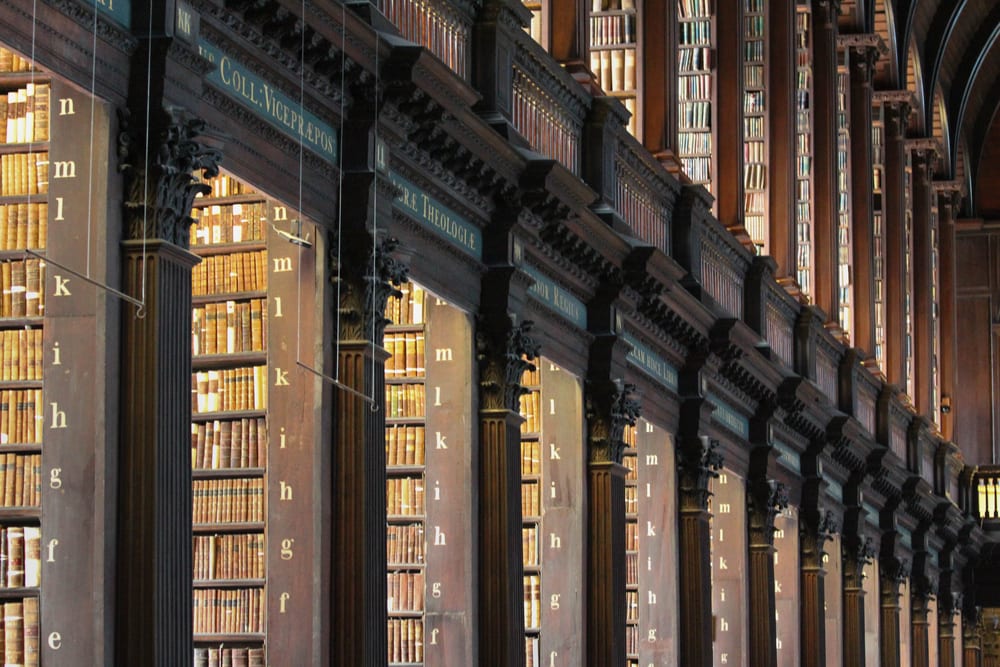 Thinking of choosing Dublin for a long weekend away and not entirely sure how to spend it? No need to panic. At the Alex, we are the Capitals experts in all things to do & see and we have created a list of few sights to explore on your weekend away in Dublin.
Temple Bar
Starting off with the most obvious place to visit if you're looking for a tasty bite and a cheeky cocktail, Temple Bar. Also known as "Dublin's Cultural Corner", this neighbourhood gives an awareness of the nightlife in Ireland – it's great to experience and check out the Capitals vibe. Its paved streets are highly coloured with many pubs and bars displaying flowers on their catchy façade. This quarter is very animated with local artists and musicians performing on the streets and is flooded with bold street artwork. On the west side, you will find amazing little craft and design shops, offering a selection of artworks, jewelry and clothing.
Trinity Library
Our second stop is at Trinity College Library, on every must-see list you can find for Dublin. We can agree to pay a visit to its spectacular Long Room, home to the book of Kells and over 200,000 of Trinity's ancient books. The Library is a very popular tourist attraction so be sure to book your place in advance on the Trinity website to avoid the long queue – you still have so much to see in Dublin, you can't waste any time queuing! The campus and grounds of Trinity College is also a lovely place to have a wander and is free to access, they have done an excellent job with the landscaping and the old buildings give the place a dramatic look.
Irish Whiskey Museum
One of Irelands specialities has been whiskey for quite some time and Dublin is home to Irelands most popular whiskey distilleries – Teelings and Jameson distilleries to name a few. The Irish Whiskey Museum located on Grafton Street, has four rooms, each room representing and themed from a period in Irish History. Listening and learning while sipping on some of the most delicious Irish whiskies, neat or on the rocks, however you like it – sounds like a great fun day out to us!
Guinness Storehouse
Carrying on with the delightful beverages of Ireland, it would be rude not to mention the Guinness Storehouse. Guinness is the most popular alcoholic drink in Ireland and has been for centuries – we can't see that changing any time soon either! This attraction tells you the story of "the black stuff" and go through the entire process as well as explaining the marketing strategy behind this success story, including an advertising display with TV ads, posters and much more. The culminating point of the visit is the Gravity bar with its 360° views across the city's magnificent skyline – so Instagrammable!
Johnnie Fox's
Considered as the highest pub in Ireland, Johnnie Fox's is mostly renowned for its Irish dancing show while enjoying your meal. But don't imagine a place such as Paris' cabaret, it is a typical Irish pub crowded on Saturday night with the dancers performing 50cm from your table! Johnnie Fox's is located 25mins away from Dublin City towards the Wicklow mountains, it is so worth the drive down and the place to be on a Saturday night.
The Secret Garden @ The Alex Hotel
We can't forget to mention the hidden gem in our very own hotel, the Secret Garden. If you ever find yourself strolling through Dublin and you're in the mood for some weekend brunch, come pay us a visit and try out our delicious, new and improved brunch menu. If you wish to spend the weekend in Dublin, we have a special offer just perfect for you! Our Bed and Brunch offer is so popular right now – an overnight stay and brunch for two the next day.
Vintage Tea Tours
Have you ever experienced afternoon tea on a vintage 1960s London bus while sightseeing a city? Sounds like a random trio but it works – its trendy, quirky and we love the idea! It's a fun and unique experience that you probably don't see too often but should definitely check it out while spending a weekend in Dublin. So, what kind of treats and nibbles can you expect on this journey? Same as afternoon tea in a hotel – homemade bakes, fresh sandwiches, teas and coffees. Afternoon tea as well as sightseeing for a reasonable price, sounds good to us!
Picnics in Dublin
If you're lucky enough to have the good weather on your side while spending a weekend in Dublin, we recommend having a picnic in one of the many stunning parks in Dublin – Merrion Square, Phoenix Park, St. Stephens Green, Iveagh Gardens, St. Anne's Park & more. Something so simplistic like a picnic can really boost your weekend, it's so peaceful and calming especially if you need a breather from the manic of the city. Our Picnic in The Park offer is the way to go if you're looking for a peaceful and simplistic weekend away. Our offer includes; an overnight stay, a picnic basket full of fresh produce and breakfast the following morning – how good does that sound?
Spending a long weekend in Dublin, making sure you see all the sites and attractions will run you off your feet. Staying at the Alex will make your weekend more comfortable thanks to our central Dublin City Centre location and luxurious rooms to recharge after your long day exploring what the Capital has to offer.